Buy diode stack laser bar DVS-MS-1006BAI for repair cosmetic laser. OE Photonics 808nm 300/500/600watts Diode Laser Stack MS Series DVS-MS-1003BAI DVS-MS-1006BAI. Laser diode spare parts.
The photos below show a diode stack (laser bar) DVS-MS-1006BAI. 
 I have extensive experience in repairing diode lasers for hair removal. If your laser is not flashing, then there may be various problems. One of the problems is the failure of the handle.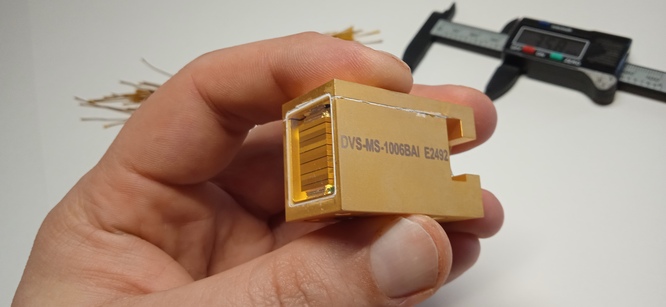 If you have problems with the diode stack, then we can advise you on the replacement and the reasons that led to the failure of the diode stack.
I highlight the following malfunctions in the operation of diode lasers:
- black dots, soot in the handle of the diode laser. This is a clear malfunction and failure of the laser bar.
- when the button on the handle is pressed, there are no flashes. But on the diode laser display, the total number of flashes is added. It is also possible for the diode stack to fail.
There are also problems with electronic parts in the diode laser system. If you need help in determining the malfunction of your diode laser, then you can get remote advice from me on repairing a diode laser.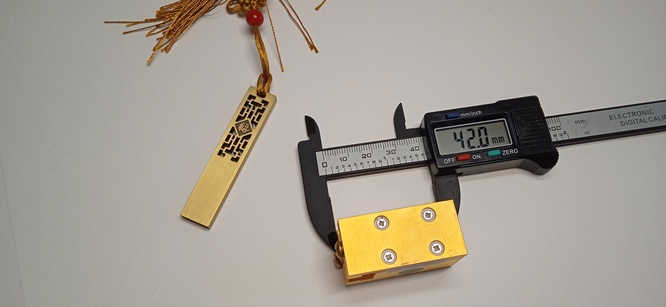 Hello. You send a photo of the part that is broken. We offer you a new one. Spare parts for lasers from the manufacturer's factory. Shipping worldwide. Free consultation. Sales Manager:Roman Whatsapp , Telegram : +7(918)0110234 Email: Адрес электронной почты защищен от спам-ботов. Для просмотра адреса в вашем браузере должен быть включен Javascript.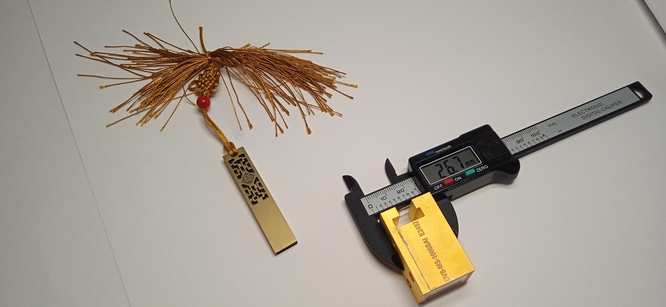 Brand Name: OE Photonics
Model Number: LAS-MS-1006BAI
Type: Laser
Warranty: 1.5 years, 18months
Laser bar: 100watts/ bar from American Coherent
Function: hair removal
Spot size: 12*16mm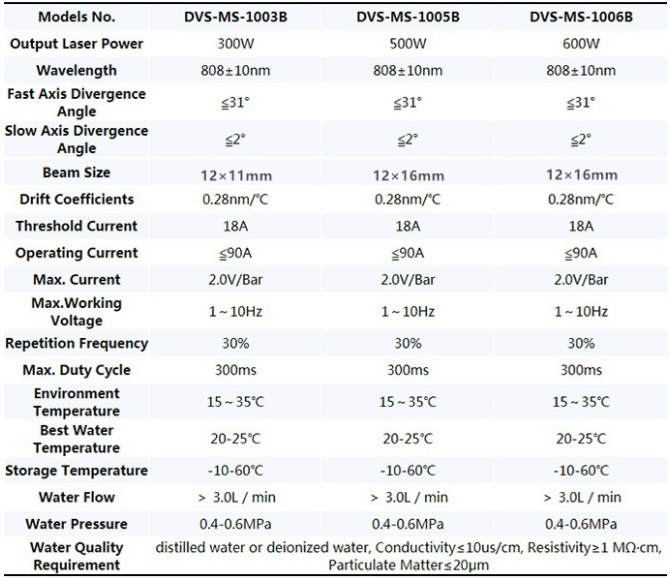 Pulse width: 1-300ms
Duty Cycle: 1-30%
Cooling system: macro channel water cooling
Delivery: DHL FedEx UPS etc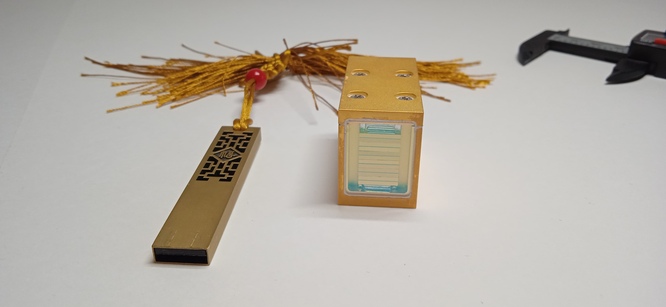 This site contains information on lasers for cosmetology. One of the problems of the devices is the failure of the diode stack. My repair experience suggests that you need to change the distilled water in the laser once a month. If you have a good diode laser, then it has filters in the system to purify water in the cooling system.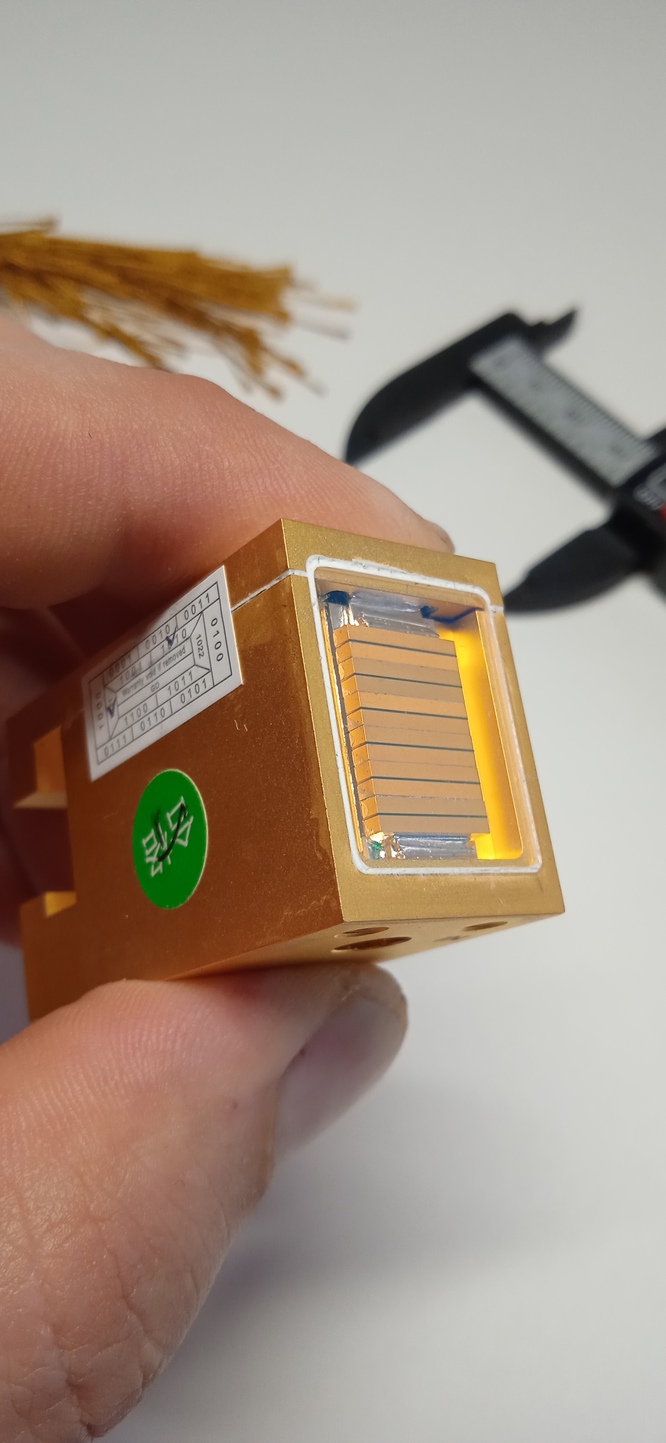 Delivery of diode stacks (laser bars) takes place all over the world in various countries. German materials are used in the manufacture.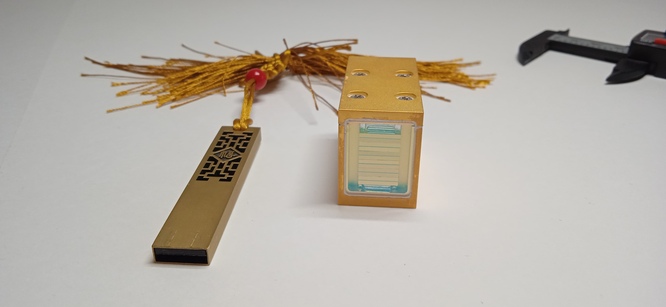 The big bonus is that every customer will be informed how to properly install and test the diode stack. Repair of diode lasers has a specific experience. There are various examples of faults in diode lasers. Many require general knowledge.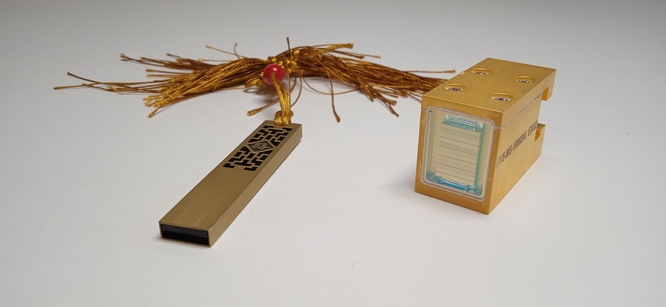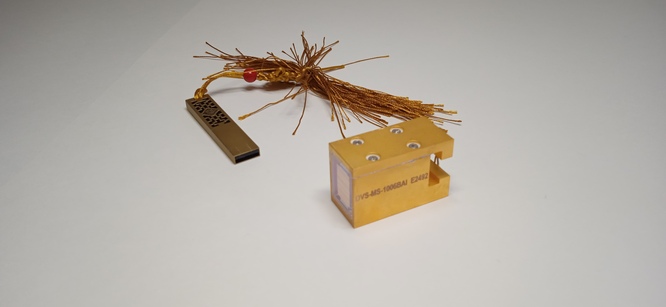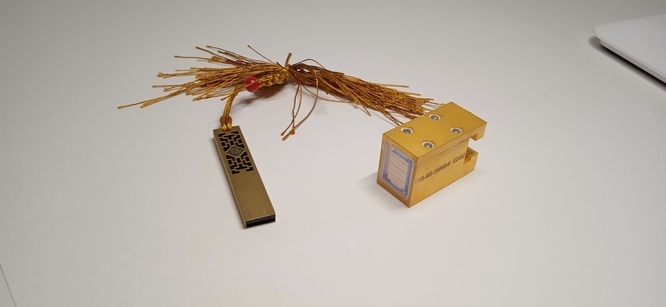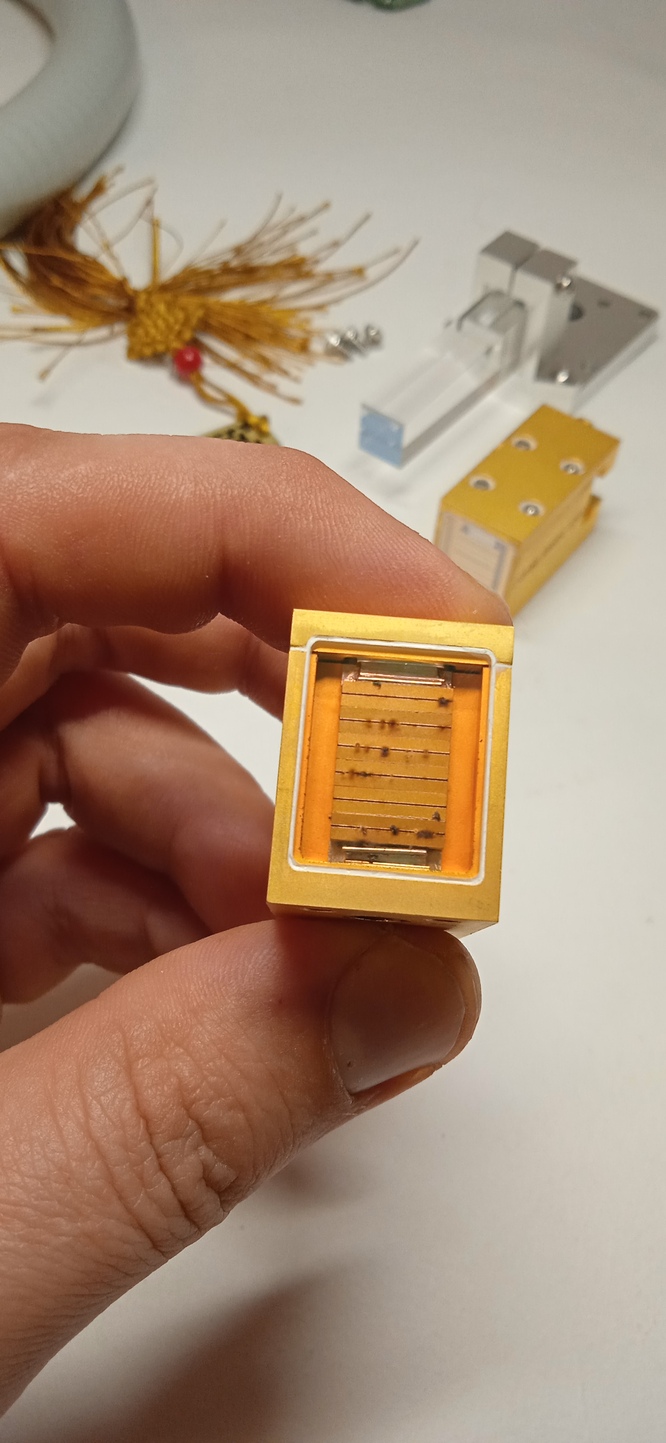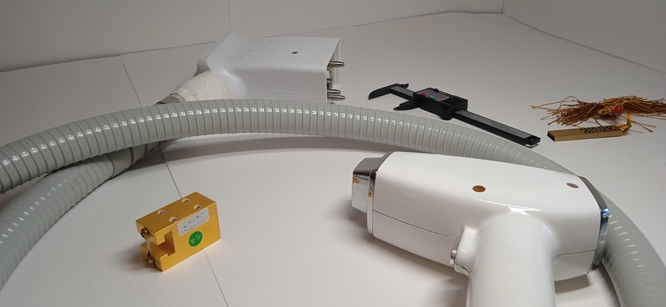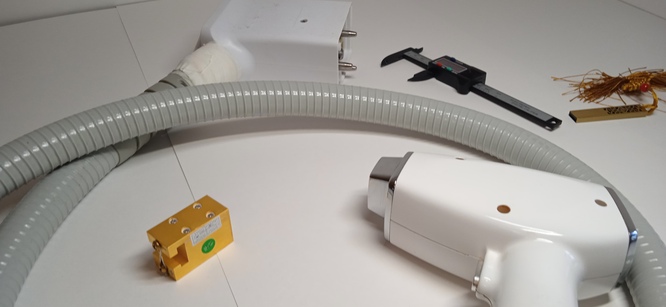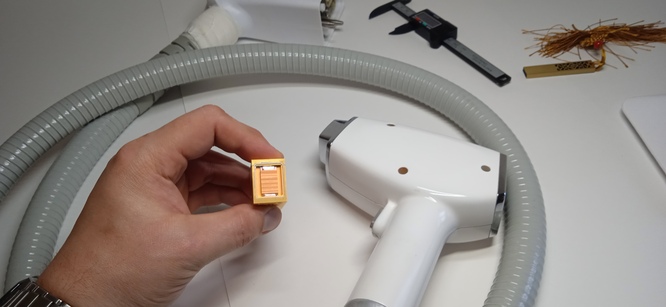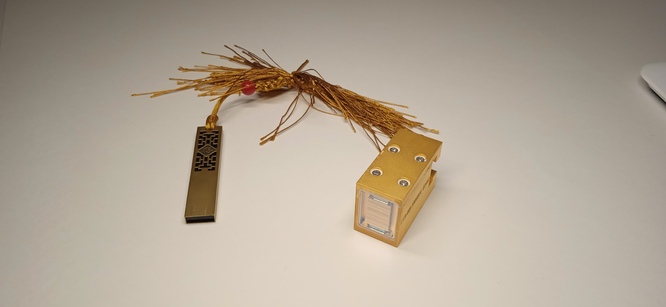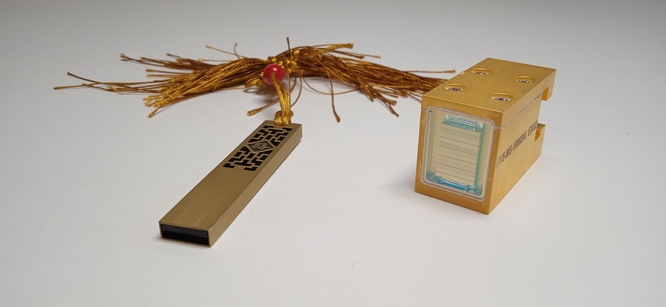 The following are some of the causes that cause the diode laser bar to burn out:
1.Temperature- Using the machine for too long and its temperature becomes too high. We recommend that you do not use the machine continuously for more than 4 hours without stopping. . Do not believe everyone that the supplier said that their device can work more than 12 hours, 24 hours one time continuously, it seems like a rumor. It should also be noted that the manufacturer is trying to put protection measures. A good diode laser has the following degrees of protection:
- diode laser water level sensor. At a minimum, the more water, the slower it will heat up when your laser epilator is running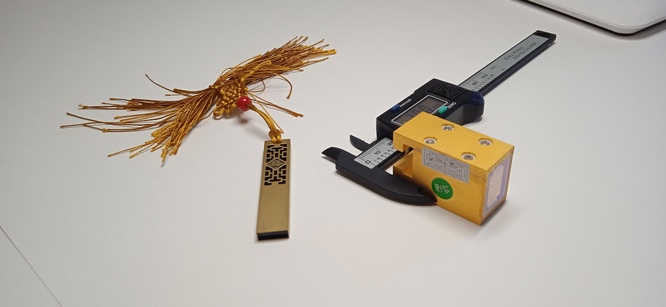 If when you press the button of the diode laser handle, flashes are counted on the displays of the diode laser, and there is no radiation from the handle, then there are 2 options. You have a burned out diode array ( diode stacks of various capacities and configurations are available for sale) or a problem in the laser driver. There are more nuances. But regarding the repair, you can consult by phone +7 (918) 0110234 Roman.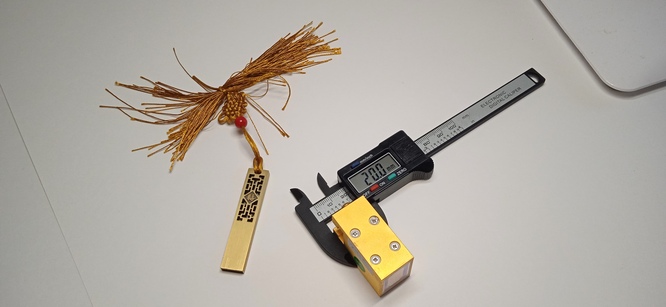 Delivery to the following countries through the Transport companies is possible:
Australia, Austria, Azerbaijan, Aland Islands, Albania, Algeria, American Samoa, Anguilla, Angola, Andorra, Antarctica, Antigua and Barbuda, Argentina, Armenia, Aruba, Afghanistan, Bahamas, Bangladesh, Barbados, Bahrain, Belarus, Belize, Belgium, Benin, Bermuda, Bulgaria, Bolivia, Bonaire Saba and Sint Eustatius, Bosnia and Herzegovina, Botswana, Brazil, British Indian Ocean Territory,
British Virgin Islands, Brunei, Burkina Faso, Burundi, Bhutan, Vanuatu, Vatican, Great Britain, Hungary, Venezuela, Virgin Islands, Vietnam, Gabon, Haiti, Guyana, Gambia, Ghana, Guadeloupe, Guatemala, Guinea, Guinea, Bissau, Germany Guernsey, Gibraltar, Honduras, Hong Kong, Grenada, Greenland, Greece, Georgia, Guam, Denmark, Democratic Republic of the Congo, Jersey,
Djibouti, Dominica, Dominican Republic, Egypt, Zimbabwe, Israel, India, Indonesia, Jordan, Iraq, Iran, Ireland, Iceland, Spain, Italy, Yemen, Cape Verde, Kazakhstan,
Cayman Islands, Cambodia, Cameroon, Canada, Qatar, Kenya, Cyprus, Kyrgyzstan, Kiribati, China, Coconut (Keeling) Islands, Colombia, Comoros, Congo, Kosovo, Costa RicaCot d'Ivoire,
Crimea, Cuba, Kuwait, Curacao, Laos, Latvia, Lesotho, Liberia, Lebanon, Libya, Lithuania, Liechtenstein, Luxembourg, Mauritius, Mauritania, Madagascar, Mayotte, Macau, Malawi, Malaysia, Mali, Small Pacific Remote Islands of the United States, Maldives,
Malta, Morocco, Martinique, Marshall Islands, Mexico, Micronesia, Mozambique, Moldova, Monaco, Mongolia, Montserrat, Namibia, Nauru, Nepal, Niger, Nigeria, Netherlands, Nicaragua, Niue, New Zealand, New Caledonia, Norway. United Arab Emirates, Oman, Island Bouvet, Isle of Man, Norfolk Island, Christmas Island, Heard Island and MacDonald Islands, Cook Islands, St. Helena, Ascension and Tristan da Cunha, Pakistan, Palau, Palestinian Territories, Panama, Papua New Guinea, Paraguay, Peru, Pitcairn , Poland, Portugal, Puerto Rico, Reunion, Russia, Rwanda, Romania,
USA, Salvador, Samoa, San Marino, Sao Tome and Principe, Saudi Arabia, North Korea, North Macedonia, Northern Mariana Islands, Seychelles, Saint Barthelemy, Saint Martin, Saint Pierre and Miquelon, Senegal, Saint Vincent and Grenadines, Saint Kitts and Nevis, Saint Lucia, Serbia,
Singapore, Sint Maarten, Syria, Slovakia, Slovenia, Solomon Islands, Somalia, Sudan, Suriname, Sierra Leone, Tajikistan, Thailand, Taiwan, Tanzania, Turks and Caicos, Timor-Leste, Togo, Tokelau ,, Tonga
Trinidad and Tobago Tuvalu, Tunisia, Turkmenistan, Turkey, Uganda, Uzbekistan, Ukraine, Wallis and Futuna, Uruguay, Faroe Islands, Fiji, Philippines, Finland, Falkland Islands (Malvinas), France,
French Guiana, French Polynesia, French Southern and Antarctic Territories, Croatia, Chad, Montenegro, Czech Republic, Chile, Switzerland, Sweden, Svalbard and Jan Mayen Sri Lanka, Ecuador, Equatorial Guinea, Eritrea, Esvatini, Estonia, Ethiopia,
South Africa, South Georgia and the South Sandwich Islands, South Korea, South Sudan.
Delivery to the following cities of the world is possible:
Aasiaat, Abadan, Abakan, Abbotsford, Aberdeen, Aberdeen, Abidjan, Abilene, Abu Dhabi, Abuja, Abha, Avignon, Agadir, Agartala, Agatti, Agra, Agra, Aguadilla, Aguascalientes, Adana, Addis Ababa, Adela, Adela Adyyaman, Agen, Aizawl, Aitutaki, Idaho Falls, Islay, Island Lake, Islip, Iron Mountain, Ironwood, Akaba, Acapulco, Akita, Accra, Cron, Aksu, Axum, Aktau, Aktobe, Akureyri, Alakanuk, Alamos, Alamaniya , Alexandria, Alexandria, Alexandroupolis, Algeria, Alicante, Alice Springs, Allahabad, Allentown, Almaty, Alor, Alor Setar, Alotau, Alpena, Alta, Alta Florest, Altai, Altamira, Altoon, Al-Ai , Al-Baha, Al-Ula, Albuquerque, Alghero, Almeria, Alliance, Amami, Amarillo, Amasya, Ambler, Ambon, Amman, AmritsarAmsterdam, Anadyr, Anapa, Anvik, Anguilla, Anglisi, Andahuaylas, Andenes, Andijani, Angers Ankara, Ancona, Anchorage, Annaba, Antalya, Antananarivo, Antwerp, Antigua Antofagasta Antsiranana Anqing, Anshan Anshun, Aomori, Apartado, Apia, Upington, Appleton Araguaina, Aracaju Arar, Aracatuba, Arauca, Arash Arba -Minch, Arvidsyaur, Ardabil, Arequipa, Arica, Arcata, Armenia, Armidale, Aruba, Arutam Arusha, Arkhangelsk, Arshan, Asahikawa, Asmara, Asos, Aspen, Astypalea, Astra An, Asturias, Aswan, Asuncion, Asyut, Atambua, Atkasuk, Atlanta, Atlantic City, Atmautluak, Atyrau, Aurangabad,, Athens, Ahwaz, Ahmadabad, Ashville, Ashgabat, Baghdad, Bagdogra, Adahos, Bahia, Badja Solano, Bahia Blanca, Baishan, Buckland, Bacolod, Baku, Bacau, Balikpapan, Ballina, Baltimore, Balboa, Balmaceda, Baltra, Bamaga, Bamako, Bangalore, Bangui, Bangkok, Bangor, Banda Aceh, Bundaberg, Bandar Lang Banjarmasin, Bandung, Banjul, Banja Luka, Baotou, Baoshan, Bar Harbor, Bardufoss, Bari, Bario, Barisal, Barcaldin, Barquisimeto, Barnaul, Barra, Barrancarbermeha, Barranquil me, Barreiras, Barrow, Barcelona, ​​Barcelona, ​​Basco, Basra, Bastia, Batu, Batagay, Batagay, Batagay, Batam, Bathurst, Bathurst, Batken, Batman, Batna, Shilin-Hoto, Shillong, Shimani, Shimla, Shimo, Shimo Shirdi, Sirnak, Shijiazhuang, Shishmarev, Chlef, Show Low, Shreveport, Stuttgart, Choiseul, Shymkent, Shenzhen, Shenyang, Evansville, Even, Everett, Egidzhik, Egilsstadir, Edinburgh, Edmonton, Edremit, Eilat, Eindhoven, Exeter, Exmouth, Eldoret , Elim, Elista, Elko, Elko, Elmira,
El Calafate, El Palomar, El Aaiun, El Baida, El Wedjh, El Geneina, El Golea, El Jouf, El Dorado, El Kamyshly, El Nido, El Paso, El Centro, El-Oued, El-Fashir, Al-Khasab, Al Hoceima, Al-Khufuf, Elba, Elazig, Emerald, Emmonak, Najaf, Angelholm, Engling Lake, Ende, Entebbe, Enugu, Enfida, Enshi, Er Rashidia, Riyadh, Erbil, Orebro, Erzincan, Erzurum, Erie, Hermosillo, Ernskoldsvik, Erfurt, Eren-Hot, Es-Suweira, Esbjerg, Eseluye, Escanaba, Esquel, Esmeraldas, Esperuus, Esperuus, Esperuus, Esperasuto, Esperuus, Eugene, Yuzhno-Kurilsk, Yuzhno-Sakhalinsk, Yulin, Yushu,
Yukanda, Yuma, Yongzhou, Yucheng, Yakima, Yakushima, Yakutat, Yakutsk, Yamagata, Yanbu, Yangon, Yanina, Yangzhou, Yangyang,, Yan'an, Yantai,Yanji, Yancheng, Yap, Yaroslavl, Iasi, Yaounde, Baton Rouge, Batticaloa, Batumi, Baubau, Bauru, Bahawalpur, Bahr Dar, Baia Mare, Bayan Nur, Bejaya, Beziers, Bakersfield, Beirut Jersey , Beckley, White Mountain, Belgaum, Belgorod, Belgrade,
Belen, Belize, Bella Bella, Bella Kula, Bellingham, Beloyarsky, Belo Horizonte, Belfast, Balti, Bemidji, Benbekyula, Bender Abbas, Bender Mahshehr, Benin City, Benkulu, Burbank, Bergen, Berezovo, Berens River, Bergever , Berlevag, Berlin
Burlington,, Burlington, Bermuda, Islands, Bern, Bernie, Bethel, Biak, Biarritz, Billings, Billund, Bilbao, Bimini
Binghamton, Bingol, Bintulu, Biratnagar, Birgend, Birmingham
Birmingham, Bissau, Biskra, Bismarck, Bitsze, Bisha, Bishkek, Blagoveshchensk, Blantyre, Blenheim, Bloomington, Bloemfontein, Blackall, Boa Vista, Boa Vista, Bogotá, Bodaibo, Bojnurd, Bodrum,
Bozeman, Boise, Bocas del Toro Bologna, Grand Cayman, Beaumont, Bonitu, Bonaire,
Bor, Bora Bora, Bordeaux, Bournemouth, Bornholm, Boro-Tala, Boston, Batsfjord,
Braganza, Brazzaville, Brasilia, Brandon, Brunswick, Bratislava, Bratsk, Brownsville, Brevig Mission, Brainerd, Bremen, Brest, Brest, Brive-la-Gaillarde, Bridgetown, Brindisi, Brisbane, Bristol, Bristol, Brno, Brno
Brunei, Bradford, Bruges, Brussels, Bryansk, Bronnoysund, Bugulma, Budapest, Bodø,
Buenaventura, Bujumbura, Bucaramanga, Bukoba, Bulawayo, Bullhead City, Banmethuot,
Burayda, Burgas, Burgos, Uriram, Bourlange, Bursa, Burchun,, Butuan
Buffalo, Bukhara, Bucharest, Bushehr, Bushuanga, Buenos Aires,
Bhavnagar, Bhadrapur Bhatinda, Bhopal, Bhubaneswar, Bhuj, Bydgoszcz, Butte, Be-Como,
Beihai, Vaasa, Wabush, Vavau, Vajir, Wajima, Wadi Ad Davasir Vadodara, Vadsø, Waingapu, Wakkanai, Valdiz, Valdostam, Valencia,, Valencia, Val d'Or, Valverde, Valdivia, Valladolid, Val
Wamena, Van, Van He, Vanimo, Vancouver, Wanzhou, Wapenamanda, Varadero, Varanasi, Vardeu, Varginha, Varzazat, Varna, Warsaw, Vaskaganish, Waterloo, Washington, Wewak, Vale, Wexjo, Veliky Ustyug, Wellington, Vienna, Venice, Vera, Vera, Venice Gorda, Vernal,, Vero Beach,, Verona, Westerland, Westray,, Vigo,, Vijayavada,, Viseu, Victoria, Victoria Falls, Vila Real, Vilanculu, Villena, Vilnius, Villavicencio, Villahermosa,
Windsor, Windhoek, Winnipeg, Vinnytsia, Vinh, Vinha Del Mar, Virac, Visby, Vitebsk, Vitoria, Vitoria, Vitoria da Conquista, Vichelmina
Vishakhapatnam, Vladivostok, Vladikavkaz, Volgograd, Volda, Vologda, Wonja, Vorkuta, Voronezh
Wroclaw, Wolf, Point, Worcester, Viedma, Vieques, Vientiane, Weifang, Weihai, Wenzhou, Wenshan, Gabala, Gaborone, Havana, Gaziantep, Galena, Halifax, Gulfport, Gambela, Gambell, Hamburg, Hamilton, Hamilton, Hamilton Gunnison, Hanover, Ganzhou, Kaohsiung, Gardaya, Garden City, Harrisburg
Garrison, Garoua, Gaspe, Gastavus, Gaya,, Guadalajara
Gwadar, Gwalior, Guatemala
Gdansk, Gainesville, Gelendzhik, General Santos, Genoa, Herat, Guernsey,
Hyannis, Gibraltar, Gizo, Gilgit, Giresun, Gisborne, Gladstone, Glasgow, Glasgow, Glendive, Goa, Governador Valadares, Governors Harbor, Gode, Gods Lake Narrows, Gods River, Gold Coast, Golmud, Golovin, Golfito, Golito, Golito Gombe, Gomel, Gondar, Hong Kong
Honolulu, Gorakhpur, Gorgan, Gorno-Altaysk, Goroka, Gorontalo, Goiania, Granada, Grand Canyon Village, Grand Island
Grand Junction, Grand Prairie, Grand Rapids, Grand Forks, Grafton, Graz, Grayling
Great Falls, Great Sudbury, Grenada, Green Bay,
Greenville, Greenville, Greenville, Greensboro, Griffith, Grodno, Terrible, Groningen,
Groot Island, Guantanamo, Guangzhou, Guangyuan, Guapi,, Guayaquil,
Guayaramerin, Guwahati, Guilin, Guiyang, Gulimin, Gunungsitoli, Gurayat,
Guyuan, Gyumri, Ganja, Gothenburg, Dabba, Dubbo, Dubek, Davadmi, Davao, Davei, David, Dakar, Dhaka, Dalaman, Dalat,
Dali, Dallas, Dalian, Damascus, Dammam, Danang, Dundee, Dunedin, Dandong,
Dar es Salaam, Darwin, Darmsala, Daru, Datong, Dutch Harbor, Dahla, Daqing, Dazhou, Des Moines, Debrecen, Devils Lake, Devonport,
Deadmen Kay, Dayton, Daytona Beach, Decatur, Delhi, Del Rio, Denver, Denizli, Denpasar Bali, Deputy, Dera Ghazi Khan,
Derry, Destin, Destin, Detroit, Dehradun, Jabalpur, Jagdachi, Jaipur, Jaisalmer, Jakarta
Jambi, Jammu, Jamnagar, Janakpur, Djanet, Jayapura, Jamestown, Jamestown
Jamestown, Jackson, Jackson, Jackson, Jacksonville, Geraldton, Djerba, Jessore, Djibouti, Jeddah, Jigel, Jigiga, Jizan, Gillett, Jimma, Jodhpur, Yogyakarta, Jonesboro, Johnstown, Joplin, George, George, George Tauna Jorhat
Jos, Johor Bahru, Juba, JunoJacksonville, Dzinghong, Dibrugarh, Dizful, Dikwella, Dickinson, Dikson, Dili, Dillingham, Dimapur, Dinar, Dipolog, Deer Lake, Deering,
Diu, Diyarbakir, Dnipro, Deauville, Dodge City,
Dodoma, Dole, Dominica, Dongkhoy, Donegal, Doncaster, Doradus, Dortmund, Dawson Creek, Dotan, Dawson, Doha, Dryden, Dresden, Douala, Dubai, Dublin
Dubrovnik, Duluth, Dumaguete, Doomadji, Dunying, Dunhuang, Durango, Durango, Durban, Dushanbe, Dharavandhoo, Dyre-Daua, Dienbyenfu, Dusseldorf, Yekaterinburg, Yellivare, Yerbogachyon, Yerevan Girona, Joinville, Juazeiro do Norte, Juan Pesoa, Jujuy, Juis di Fora, Zagora, Zagreb, Zadar, Zaysan, Zakynthos,
Salzburg, Zamboanga, Zanzibar, Zaporozhye, Zahedan, Zielona Gora, Zyryanka, Ibague, Ibadan, Ibaraki, Ibin, Ibiza, Ivakuni,
Ivalo, Iwami, Ivano-Frankivsk, Ivanovo, Igarka, Igloolik, Igrim, Igyujig, Ideas, Izumo, Izhevsk, Izmir ,,
Izmit, Ik, Iqaluit, Ikaria, Iki, Iquique, Iquitos, Ixtapa, Ilam, Ilamna, Illizi, Illokkortormiut, Iloilo,, Ilorin, Ilulissat, Ilheus, Imperatris, Imphal, In-Amenas, In-Salah, InaguYopal, Yoron, Yosu, Johannesburg, Yoshkar-Ola, Joensuu, Jonkoping, Kaanaak, Kaarsut, Kabinda, Kabu Friu, Kabul, Kavala, Kavalerovo, Kavieng, Kavtayang,
Kagayan de Oro, Kagoshima, Kadapa, Kaduna, Kodiak, Kazan, Kailua-Kona, Cairo, Cayana, Cayenne, Cayman Braque, Cayman, Cayo Coco, Kayseri, Kaysumah, Kakamega, Kakoal, Calabar, Calabo, Cala Kalamazoo, Kalamata, Kalbeyogti, Calgary, Kalgurli, Kalemi, Kalemyo, Kalikalibo, Kalymnos, Kaliningrad, Kalispell, Kalskag, Kaltag, Kaluga, Calvi, Calcutta, Kalmar, Cagliari, Camaguey, Kamau, Kamigin, Kamloops, Campeche, Grandi, Campo Grandi, Campus dos Goytakazis, KanKanberra, Kangerlussuak, Kangiksualuzhuak, Kangirsuk, Kandavu, Kandahar,
Kandy, Kandin, Kanzhikuzhuak, Kansas City, Cancun, Kannur, Kano, Kanpur, Can Tho, Cap-Haitien, Kapalua, Kapaskazing, Karaganda, Karajas, Caracas, Karamay, Karamba, Karachi, Cardiff, Carcassonne Karlovy Vary, Karlsbad, Karlsbad, Carnarvon ,,
Carnie, Karpathos, Karratha, Kars, Cartago, Cartagena, Karup, Karshi, Casablanca, Kasama, Kasane, Kasese, Cascavel, Castlegar, Casos, Casper, Kassala, Kassel, Castellon de la Plana, Castres, Castries, Castro, Catamarca, Catania, Katerman, Caticlan, Kathmandu, Katowice, Catumbela,
Kauai, Kauayan City, Kaukura, Kaunakakai, Kaunas, Kauehi, Kahamarca, Kahonak, Kahramanmaras,, Kahului, Kashgar, Kashias do Sul, Cascais, Kayaani, Kwajalein, Kwangju, Quebec, Kwaqueggve, Kwaqueggine, Kwaqueggine, Kwaquegwin -Bey, Cape ,, Girardeau, Cape Town, Keysiglek, Kelimane, Kelowna, Cambridge, Kemerovo, Kemi, Quimper, Kenai, Kendari, Kenora, Keperveem, Kepos, Keraykri, Queretaro, Kirkwall, Kerman, Kermengah, Kermengah , Ketchikan, Kefalonia, Keshm, Key West, Kibdo, Kivalina, Kigali, Kigoma, Kiev, Kilva-Kisivani, Kilimanjaro, Killin, Kimberly, King
King Salmon, Kingscote, Kingston, Kingston, Kinshasa, Kirakira, Kirensk, Kirkenes, Kirksville, Kirov
Kirovsk (Apatity), Kiruna, Kisangani, Kisumu, Kitakyushu, Kitale, Kitira, Quito, Kittila,
Kish Island, Chisinau, Klawock, Klagenfurt, Klaipeda, Klamath Falls, Clarksburg, Clermont-Ferrand, Cleveland, Clovis, Cloncurry
Cluj, Kobar, Kobikha, Kobuk, Coventry, Kogalym, Koggala, Cody,
Kozhikode, Kokkola, Cocos Islands,, Cox's Bazar, Kokshetau, Cold Bay, Colima, College Station Colombo, Colorado Springs, Colombia, Colombia,
Columbus, Columbus, Columbus, Komatsu, Comiso, Comodoro Rivadavia, Comox, Komsomolsk-on-Amur, Conakry, Kongiganak, Concord, Concepcion, Constantine,
Constanza, Konya, Copenhagen, Copiapo, Coral Harbor, Cordoba, Cordoba, Cork, Korla, Korogo, Koror, Corozal, Corpus Christi, Corrientes, Cortes, Corumba, Corfu, Kos,
Kostanay, Kostroma, Cozumel, Kota Bharu, Kota Bima, Kota Kinabalu, Cotabaru, Cotabato, Coti, Kotlas, Kotlik, Cotonou, Coffs Harbor,
Kotzebue, Cochabamba, Cochin, Kosice, Koyuk, Koyukuk, Coimbatore, Krabi, Craiova, Christchurch, Krakow, Kramfors, Cranbrook, Krasnodar, Krasnoyarsk, Crescent City, Kristiansand, Kristianstad, Crotone, Cruzeul-do-do-do-do-do-do-do Kuala Lumpur, Kuala Terengganu, Kuantan,
Coober Pedy, Kuwait, Kugluktuk, Kudat, Quincy, Queenstown, Quinion, Quitluk, Cooktown, Kukuta, Kulebra, Kullu, Kulusuk, Gulja, Kuljakan, Kulyab, Kuma, Kumamoto, Kumasi,
Kumejima, Cuneo, Kunsan, Kununarra, Kunming, Kuopio, Kupang, Kurgan, Kurgan-Tube (Bohtar) ,, Kuressaare
Curitiba, Kursk, Kusai, Kushiro, Cuzco, Kutaisi, Kuujuak, Kuujuarapik, Kuusamo, Pile, Kuching, Cuenca, Cuiaba, Khajuraho,
Khonken, Kyzyl, Kyzylorda, Kyaukpyu, Campbell River, Campbelltown, Cairns, Kunes, Curacao, Kyutakhya, Kärdla, Cologne, La Fortuna,
La Fria, La Grande, La Coruña, La Crosse, La Paz, La Paz, La Rioja, La Romana, La Rochelle, La Ceiba, La Serena, Labaz, Lubbock, Labuan, Labuan Baggio, Lavas, Lago Agrio, Lagos, Laguat, Lajis, Lacemba, Lakselv, Lakhimpur, Lucknow, Lalibela, Lamerd, Lamezia Terme, Lampang, Lampedusa,
Lanai, Langgur, Langkawi, Lancaster, Lanzarote, Lansing, Lannion, Lanzhou, Laoag, Lappeenranta, Lar, Laramie, Larantuka, Largo del Sur, Laredo, Larnaca, Las Piedras, Las Vegas, Las Palmas , Latacunga Lathrobe, Lafayette, Lahad Datu, Lahore, Lae, Le Puy-en-Velay, Lebanon, Legazpi, Ley, Lake Charles, Leipzig, Leknes, Lexington Lemnos, Lenkoran, Lensk, Lencois, Leon, Leonridge, Leer ,
Leticia, Lech, Liberal, Liberia, Either, Libreville, Liverpool, Livingston, Leeds, Liepaja, Lille,
Lilongwe, Lima, Limbang, Limoges, Lemon, Lincoln, Linz, Lynchburg, Linkoping, Linyi, Linfen,
Linzan, Lyon, Lipetsk, Liping, Lismore, Lisbon, Little Rock, Lifou, Lijiang, Lishing, Logrono, Lodwar, Lodz, Loyko, Lombok,
Lome, Long Beach, Long Seridan,
Longview, Longyearbyen, Longreach, Londolosi, London, London, Londrina, Launceston, Lord Howe, Laurel,
Loreto, Lorient, Los Angeles, Los Mochis, Lawton, Loha, Luoyang, Luang Namtha, Luang Prabang, Luanda,Lubango,, Lubumbashi, Luwuk, Lugano, Louisville,
Luxor, Lulea, Longyan, Lourdes, Lusaka, Luzon, Luzhou, Lhasa, Lhoksemava, Lviv, Liege, Lleida, Lewisberg,
Lewiston, Lublin, Ljubljana, Luderitz, Luxele, Luxembourg, Liuzhou, Lianyungang, Maamigili,
Maastricht, Mauritius, Magadan, Magnitogorsk, Magun, Madang, Majuro, Madison, Madrid, Madurai, Mae Sot, Mazar-i-Sharif, Miami, Minot, Mac Allen, Mac Arthur River, Mac Cook, Macale, Macau, Macapa, Makasar, McGrath, Makkavik, Makkay, Malabo,
Malaga, Malacca, Malang, Malatya, Male, Malindi, Small Cayman, Malmö, Malta, Mammoth, Lakes, Mamuju, Mamutsu, Managua,
Manado, Manama, Manaus, Mangalore, Mannheim, Mandalay, Manzini, Manila, Maningrid,
Manizales, Manistee, Manocvari, Manzanillo, Manzanillo,
Manta, Manhattan, Manchester, Manchester, Manshi, Manchuria, Manyara, Maputo, Mar del Plata, Maraba, Maracaibo, Margit, Mardin, Mare, Mariehamn, Marilya, Maringa, Marion, Marquette,
Marrakech, Marsa Alam, Marseille, Martas-Vinyard, Maru, Marudi, Marsh Harbor,
Marshall, Masai Mara, Masatlan,, Masbait City, Maceio, Maseru, Muscat, Muskegon, Muscle Shoals
Massena, Masset, Matamoros, Mataram, Matsu, Maturin, Maumere, Mount, Mount Isa, Mount Gambier, Mount Hagen, Mountain Village, Makhachkala,
Matsumoto, Matsuyama, Mahe, Mayaguana, Mayaguez, Mbeya, Mbombela, Mwanza, Medan, Medellin, Medina, Medicine Hat, Medford,
Meiisti, Mason City, Mekoryuk, Melbourne, Melilla, Melbourne, Membetsu, Memmingen, Memphis, Mendi, Mendoza, Menorca, Merauke, Merida, Meridian, Merimbula, Merced, Meru,, Mehamn, Mexicali,
Mexico City, Mashhad, Midland, Missoula, Mykonos,
Milan, Mildura, Milos, Milwaukee, Minatitlan,
Mineralnye Vody, Minneapolis, Minsk, Miri, Mirny, Myrtle Beach, Misrata,
Mytilini, Mitu, Miyazaki, Miyakojima, Mmabato, Moab,
Mobile, Mogadishu, Mogilev, Modesto, Molde, Molin, Mombasa,
Mombetsu, Mont Joli, Mont Tremblant, Monastir, Moncton, Montpellier, Montreal, Monroe,
Monrovia, Montgomery, Montevideo, Montego Bay, Monterrey, Monteria, Monterrey,
Montis Clarus, Montrose, Montserrat, Moranba, Morgantown, Morelia, Mori, Mornington
Moro, Moroni, Morristown, Moruya, Moscow, Mossoro, Mostar, Mohe, Mtwara, Mu-i-Rana, Muan, Mudanjiang, Mukah, Multan, Mulu, Mumbai,
Munda, Mura, Moorea, Murmansk, Murundava,
Musoma, Mush, Mosjoen, Mey, Myitkyina, Meizhou, Mae Hongson,
Munster, Munich, Mianyang, Naberezhnye Chelny (Nizhnekamsk), Navegantis, Navoi, Naga, Nagasaki,
Nagoya, Nagpur, Nador, Nadym, Nazran, Nairobi, Nightmute, Nakashibetsu, Naxos, Nakhon Phanom, Nakhon ,, Sithammarat, Nalchik, Namangan, Namibe, Nampula, Namsus, Nan, Nanaimo, Nangan,
Nanded, Nandi, Nanjing, Nancy, Nantes, Nantucket, Nanning, Nantong, Nanchang, Nanchong, Nanyang,
Napakiak, Napaskiak, Narathiwat, Narvik, Narrabri, Narsarsuak,, Naryan-Mar, Nassau, Natal, Nauru Island, Nakhchivan, Nashville, Ngala, Ndjamena, Ndola, Naples, Nevis, Nevsehir, Nejran, Neiva, Napier, Napier, Neuchuashish, Nelson, Nemaska, Nepalange, Neryungri, Neuquen,
Niagara Falls, Niamey, Nizhnevartovsk, Nizhny Novgorod, Niigata, Nikolaev, Nikolaevsk-on-Amur
Nicosia, Nimes, Ningbo, Niue, Nifty, Nice, Nis, Novokuznetsk, Novosibirsk, New Orleans, Novy Urengoy, Nogliki, Nok,, Knoxville, Nom, Norwich, Norilsk, Normanton, Norrkoping, Norsup, North Bay, North- Bend, North Platte, North Ronaldsay, North Eleuthera, Norway House, Norfolk, Nottingham
Noushekhr, Noyabrsk, Nouadhibou, Nouakchott, Nuiqsut, Nuku-Khiva, Nukualofa, Nukus, Nulanbeyi, Nulato, Noumea
Nunam-Iqua, Nur Sultan (Astana), Nurvik, Nosy Be, Notodden, Nuuk, Nueva Gerona, Nuevo Laredo, Nyingchi, New Bedford, New Bern, New York, New Plymouth, New Haven Newburgh
Newcastle, Newcastle, Newquay, Newman, Newport News, Nyurba, Nuremberg, Nyagan, Nha Trang ,, O-Claire
Oaxaca, Obihiro,, Owerie, Augusta, Augusta, Ogdensberg, Odate, Odessa, Ozamis City, Lake, Unanammine, Oita, Okayama, Okinawa, Oklahoma City, Auckland, Auckland, Okushiri, Albany, Albany, Albany, Albury, Olderney , Olenek, Alesund, Olympic, Dam, Olbia, Aalborg, Holguin, Olekminsk, Omaha, Omsk, Ondangwa, Onslow, Ontario, Opalyuk, Oradea, Oran, Oranjemund, Ordos, Orenburg, Aurillac, Orange, Orlando, Orsk, Orsk, Orsk , Osaka, Osijek, Oslo, Osorno, Austin, Ostrava, Barter Island, Graciosa Island, Corvo Island, Manus Island, Isle of Man, Norfolk Island, Easter Island,
Christmas Island, Christmas Island, San Andres Island, São Jorge Island, Santa Ana Island, St. Paul Island, Syros Island
Tiree Island, Fera Island, Horn Island, Torres Islands, Ottawa, Oulu, Owensboro, Okha
Okhotsk, Ohrid, Osh, Ocean City, Paamiut, Pavlodar, Pagadian, Pagan, Pago Pago, Padaka, Padang, Paderborn, Pai, Pilot Station, Pakse, Palangkarai, Palembang, Palenque, Palermo, Palm Island, Palm Springs Palmas, Palmerston North, Palu, Palma de Mallorca, Pamplona,
Panama, Panama, Pangkalanbun, Pangnirtang, Pankalpinang, Pantelleria, Pantnagar, Panzhihua, Papa Westray, Papeete, Paraberdu, Paramaribo, Parana, Paraparaumu, Pardubice, Paris, Parkersberg, Parks, Paro,
Paros, Pasco, Pasto, Passo Fundo, Patancot, Patna, Patras, Pattaya, Paulo-, Afonso, Paphos, Payal, Pevek, Page
Pekanbaru, Beijing, Pelotas, Pelston, Pemba, Pemba, Pen, Penang, Pendleton, Penza, Pensacola, Penticton, Peoria, Pereira, Perigueux, Perm, Perpignan, Perth, Perugia, Pescara, Petrozavodsk, Petrolina, Petropavlovsk, Petropavlovsk , Pechora, Peshawar, Pisa, Picton, Pico, Pierre, Pisco, Pietermaritzburg, Petersburg, Pittsburgh, Pituffik, Plastun, Platinum, Plattsburgh, Pleiku, Plettenberg Bay, Plovdiv, Phnom Penh, Po, Podgorica, Poznan, Point Point Lane -Hope, Pocatello, Pokhara, Polokvane, Poltava
Polar, Pond Inlet, Pondicherry, Pohnpei, Ponce, Ponta Grossa, PontaProvidenciales, Provincetown, Provo, Proserpine, Pskov, Poitiers
Pucallpa, Pula, Pulo Condor, Muslims, Pune, Punta Gorda, Punta Arenas, Punta Cana, Punta del Este, Busan
Putussibau, Puebla, Pueblo, Pointe-Noire, Pointe-a-Pitre, Puerto Asis, Puerto Inirida
Puerto Madryn, Puerto Natales, Puerto Vallarta, Puerto Iguazu, Puerto Carreño, Puerto Maldonado, Puerto Montt
Puerto Ordaz, Puerto Plata, Puerto Princesa, Puerto Escondido, Phalaborwa,
Pyongyang San Juan, San Juan, Sana'a, Sand Point, Sandakan, Sandane, Sandspit, Sanikiluak, St. Gallen Phitsanulok, Phonsavan, Pohang, Phrae, Phuket,
Piedras Negras, Piura San Juan, San Juan, Sana'a, Sand Point, Sandakan, Sandane, Sandspit, Sanikiluac, St. Gallen Rabat, Rabaul,
Rajahmandri, Rajkot, Rajshahi, Radom, Raiatea, Rhinelander, Raipur, Rangiroa, Rankin-Inlet, Ranong, Ranchi, Rapid City, Rarotonga, Ras al-Khaimah, Rutland, Ratzia
Round Lake, Rafha, Rakhimyarhan, Red Lake, Red Deer
Redding, Regina San Juan, San Juan, Sana, Sand Point, Sandacan, Sandane, Sandspit, Sanikiluac, St. Gallen Reggio Calabria
Redmond, Resolute,
Reykjavik, Reynosa, Rennes, Resistencia, Recife,
Reus, Rasht, Ribeiran Preto, Riberalta, Riverton, Riga, Rijeka,
Rome, Rimini, Rino, Rio Ondo, Rio Gallegos, Rio Grande, Rio de Janeiro, Rioacha,
Risiri, Rio Branco, Rio Verdi, Richards Bay, Richmond, Roanoke,
Roatan, Rovaniemi, Rodez, Rhodes, Rodriguez, Roswell, Royet, Rock Sound, Rock Springs, Rockhampton,
Rockland, Roles, Roma, Rondonopolis, Ronneby, Rosario, Rost, Rostov-on-Don, Rostock,
Rota, Rotorua, Rotterdam, Rojas, Rochester, Rochester, Ruby, Rouen Noranda, Roervik, Roros,
Saarbrücken, Saba, Savannah, Savonlinna, Savung, Savusavu, Saga, Saguenay, Saginaw, Saidpur, Sai
Saipan, Sayyak (Siargao), Zacatecas, Sakonnakhon, Sacramento, Sal, Salalah, Salamanca, Salvador, Salekhard, Salina, Salinas, Thessaloniki, Salta, Saltillo, Samara, Samarinda, Samarkand, Samos, Sampit, Samsun Samu Delu Gua, San Angelo, San Antonio, San Valli, San Vicenti, San Diego, San Jose do Rio Preto, San Carlos de Bariloche, San Cristobal, San Louis Obispo, San louis
Sao Luis, Sao Luis Potosi, Sao Martín de los Andes, Sao Paulo,
San Pedro Sula, San Rafael, San Salvador, San Salvador, San Sebastian, San Sebastian De La Gomera, San City, Sao Tome, San Francisco, San Jose, San Jose, San Jose del Cabo,
San Juan, San Juan, Sana'a, Sand Point, Sandakan, Sandane, Sandspit, Sanikiluac, St. Gallen,
Saint Petersburg, Sunnesjo, Santa Rosa, Santa Ana,
Santa Barbara, Santa Carolina, Santa Clara, Santa Cruz, Santa Cruz de La Palma
Santa Cruz de la Sierra, Santa Maria, Santa Maria, Santa Maria, Santa Marta, Santa Rosa, Santa Rosa, Santa Fe, Santa Fe, Santander, Santarem, Santo Domingo,
Santorini, Santo Angelo, Santiago, Santiago, Santiago, Santiago de Compostela,
Santiago del Estero, Sunshine Coast, Sanya, Sapporo, Zaragoza, Sarajevo, Saranak Lake, Saransk, Sarasota, Saratov, Sari, Sarnia, Saskatoon, Satu Mare,
Saumlaki, South Bend, Southampton, Sachigo Lake, Sveg, Svolvaer, Cebu, Seville,
Sege, Selawik, Selenium, Semarang, Semey, Semera,, Saint-Barthelemy, Saint-Denis
Saint Martin, Saint Nazaire,
St. Pierre,, Sendai, Cenning,, St. Vincent, St. John, St. John's, St. George, St. George, St. Kitts, St. Louis, St. Michael, St. Marys
Saint Augustine, Saint Thomas, Saint Etienne, Seronera, Seth Ile, Setif, Seoul, Sihanoukville, Xi'an, Sibiu
Sibu, Sivas, Sigeria, Cedar Rapids, Cedar City, Siddharthanagar, Shizuoka, Sydney, Sydney
Sydney, Siduna,, Siem Reap, Siirt, Silver City, Sylhet, Silchar, Simferopol (Crimea), Singapore, Xining, Sinop, Sinop, Sint Maarten, Sint Eustatius, Sintang, Xinyi, Syracuse, Sirahama, Sisimiut, Cityia
Sitka, Situe,, Xichang, Sishen, Seattle, Sialkot, Skardu, Skiathos,
Skyros, Skopje, Scottsbluff, Skukuza, Smithers, Soviet Harbor, Soviet, Sogndal, Soyo,
Solovki, Salt Saint Mary, Salt Lake City, Songea, Sorong, Sofia, Sohag, Sochi (Adler), Split, Spokane, Spring Point, Springfield, Springfield, Srednekolymsk, Srinagar,
Stavanger,, Stavropol, Istanbul, Stebbins, State College, Stillwater, Stockholm,
Stokmarknes, Staunton, Stornoway, Strasbourg, Strezhevoy, Stronsay, Stur, Sous Lookout, Sous Sainte-Marie, Sous Falls, Sous-city, Suva, Sukkur, Sucre, Sukhothai, Suleimaniya, Sumbawa-Besar, Sundsvall, Suntar, Surabaya, Surakarta, Surat, Suratthani, Surgut, Surigao, Sukhum,
Suceava, Sfax, Syktyvkar, Symao,
Cienfuegos, Ciudad Victoria, Ciudad Obregon, Ciudad Juarez,
Ciudad del Carmen, Ciudad del Este, Xuzhou, Xiamen, Xiangfan, Shonai, Sonderborg,
Tabating, Tabora, Tabubil, Tabuk, Tawau, Taveuni
Tagbilaran, Taziuzhak, Taif, Taipei, Taitung, Tyler, Tainan, Taizhou, Taichung
Taiyuan, Takamatsu, Tacloban, Tacna, Takoradi, Talakan, Talara, Taldykorgan, Tallahassee, Tallinn, Tulsa, Taluksak, Tamale, Tamanrasset,
Tambov, Tambolaka, Tambor, Tamworth, Tame,
Tamky, Tamlingtar, Tampa, Tampere, Tampico, Tan-Tan, Tanga, Thandwe, Thunder Bay, Tanjung, Manis, Tanjung Pandan, Tanjung Pinang, Tangier, Taraz, Cockroach,
Tarapoto, Tari, Tari, Tariha, Tartu, Townsville, Taupo, Tauranga, Tachilek, Tashkent, Tbilisi, Tbessa
Tabriz, Tehran, Tegucigalpa, Tezpur, Teixeira di Freitas, Texarkana, Teller, Tel Aviv, Tembagapura, Temuco, Tenerife, Tenchun, Tepic, Terezina, Termez,, Ternate,
Terrace, Terceira, Tete, Teterboro, Tefe,
Tefe, Tivat, Tikehau, Tiksi, Timaru, Timimun, ,St. Pierre,, Sendai, Cenning,, St. Vincent, St. John, St. John's, St. George, St. George, St. Kitts, St. Louis, St. Michael, St. Marys
Saint Augustine, Saint Thomas, Saint Etienne, Seronera, Seth Ile, Setif, Seoul, Sihanoukville, Xi'an, Sibiu
Sibu, Sivas, Sigeria, Cedar Rapids, Cedar City, Siddharthanagar, Shizuoka, Sydney, Sydney
Sydney, Siduna,, Siem Reap, Siirt, Silver City, Sylhet, Silchar, Simferopol (Crimea), Singapore, Xining, Sinop, Sinop, Sint Maarten, Sint Eustatius, Sintang, Xinyi, Syracuse, Sirahama, Sisimiut, Cityia
Sitka, Situe,, Xichang, Sishen, Seattle, Sialkot, Skardu, Skiathos,
Skyros, Skopje, Scottsbluff, Skukuza, Smithers, Soviet Harbor, Soviet, Sogndal, Soyo,
Solovki, Salt Saint Mary, Salt Lake City, Songea, Sorong, Sofia, Sohag, Sochi (Adler), Split, Spokane, Spring Point, Springfield, Springfield, Srednekolymsk, Srinagar,
Stavanger,, Stavropol, Istanbul, Stebbins, State College, Stillwater, Stockholm,
Stokmarknes, Staunton, Stornoway, Strasbourg, Strezhevoy, Stronsay, Stur, Sous Lookout, Sous Sainte-Marie, Sous Falls, Sous-city, Suva, Sukkur, Sucre, Sukhothai, Suleimaniya, Sumbawa-Besar, Sundsvall, Suntar, Surabaya, Surakarta, Surat, Suratthani, Surgut, Surigao, Sukhum,
Suceava, Sfax, Syktyvkar, Symao,
Cienfuegos, Ciudad Victoria, Ciudad Obregon, Ciudad Juarez,
Ciudad del Carmen, Ciudad del Este, Xuzhou, Xiamen, Xiangfan, Shonai, Sonderborg,
Tabating, Tabora, Tabubil, Tabuk, Tawau, Taveuni
Tagbilaran, Taziuzhak, Taif, Taipei, Taitung, Tyler, Tainan, Taizhou, Taichung
Taiyuan, Takamatsu, Tacloban, Tacna, Takoradi, Talakan, Talara, Taldykorgan, Tallahassee, Tallinn, Tulsa, Taluksak, Tamale, Tamanrasset,
Tambov, Tambolaka, Tambor, Tamworth, Tame,
Tamky, Tamlingtar, Tampa, Tampere, Tampico, Tan-Tan, Tanga, Thandwe, Thunder Bay, Tanjung, Manis, Tanjung Pandan, Tanjung Pinang, Tangier, Taraz, Cockroach,
Tarapoto, Tari, Tari, Tariha, Tartu, Townsville, Taupo, Tauranga, Tachilek, Tashkent, Tbilisi, Tbessa
Tabriz, Tehran, Tegucigalpa, Tezpur, Teixeira di Freitas, Texarkana, Teller, Tel Aviv, Tembagapura, Temuco, Tenerife, Tenchun, Tepic, Terezina, Termez,, Ternate,
Terrace, Terceira, Tete, Teterboro, Tefe,
Tefe, Tivat, Tikehau, Tiksi, Timaru, Timimun, Timisoara, Timmins, Tindouf, Tioman, Tirana, Tirupati, Tiruchirappalli
Teesside, Typhoid River Falls, Tijuana, Tlemcen, Tobago, Tozer
Tokyo, Toksook Bay, Tokushima, Tolanaro, Toledo, Tomsk, Toronto, Torreon, Tortola,
Tottori,, Toyama, Trabzon, Traverse City, Trang,, Trapani,
Trat, Treasure Kay, Trelew, Trivandrum, Trieste,
Trinidad, Trincomalee, Tripoli, Trollhattan, Tromso, Trondheim, Truk,
Trujillo, Tuvalu, Tuggurt, Tugegarao, Tuzla, Twin Falls, Tuihoa, Tuliara,
Toulon, Toulouse, Tumaco, Tumbes, Tongren, Tunisia, Tonghua, Tour, Turaif, Turbat, Turin,
Turkmenabat, Turkmenbashi, Turku, Tursby, Turukhansk, Turpan, Tucson,
Tuxtla Gutierrez, Tuticorin, Thanh Hoa
Tynda, Tirgu Mures, Tupelo, Daegu, Tyumen, Tianjin,, Ouagadougou, Whyalla, White Mountain, Whitehorse, Huanuco
Ouargla, Huatulco, Ube, Uberaba, Uberlandia, Ubon Ratchathani, Uvea, Udaipur, Ujda, Udon Thani, Uzhgorod, Wick, Wilkes-Barre, Williston, Wilmington, Williams Lake, Williamsport, Winston-Salem, Wynton, Wheatan, Wheatan, Wich -Bator
Ulan-Ude, Ulan-Hot, Uluru, Ulsan, Ulyanovsk, Umea, Umtata, Umtata, Unalakleet, Wagga-Wogga
Wagga-Wagga, Walla Walla, Wallis, Walvis Bay, Wauso, Waterloo, Watertown, Watertown (South Dakota), Urai, Uralsk, Urgench, Urmia, Uruapan, Uruguaina, Urumqi, Wuxi, Usinsk, Ust-Ust
Ust-Kamenogorsk, Ust-Kuyga, Ust-Kut, Ust-May, Ust-Nera, Ust-Tsilma, Ufa, Wuhai, Wuhan, Ukhta, Usharal, Ushuaia, Waco, Weipa, Wales, Wenatchee, West Palm Beach, Westpark, Westchester, Uyuni, Fayzabad, Fakarava
Whakatane, Fakfak, Fangarei, Fargo, Faroe Islands, Farmington, Faro
Fayetteville, Fayetteville, Feira de Santa, Faisalabad, Fergana, Fernando de Noronha, Fes
Figari, Philadelphia, Phoenix, Flin-Flon, Flinders, Flint, Florence, Florencia, Florence, Flores, Florianopolis
Florisch, Floureux, Fort de France, Formosa, Fort Dodge, Fort Myers, Fort McMurray, Fort Nelson, Fort Chipuyan, Fort Lauderdale, Fort St. John, Fort Smith
Fort Smith, Fort Wayne, Fort Frances, Fort Yukon, Fortaleza, Foz do Iguacu, Foshan, Friday Harbor, Franklin, Frankfurt am Main, Francisco de Orellana, Francistown, Fredericton
Fresno, Friedrichshafen, Freeport, Freetown, Fuvamula, Fukuoka, Fukuoka, Fukushima, Fukue, Funchal
Futuna, Fuzhou, Fuerteventura,, Fuyuan (Jiamusi), Fuyang,,
Fairbanks, Forde, Haapai, Khabarovsk, Havr, Hagatna, Hagfors, Hail, Hai, Level, Hydeberg, Hyderabad, Haikou, Hailar, Haifa, Haiphong, Hake, Hakodate, Halmstad, Hamadan
Hambantota, Humberside, Hami, Hammerfest, Hana, Hanamaki, Hanimadu, Hancock, Hanoi, Huntington, Huntsville, Khanty-Mansiysk, Hangzhou, Handan, Hanzhong, Chania, Happy Valley-Goose, Bay, Harare, Harbin, Harvey, Harvey Hargeisa, Harlingen, Khartoum, Hartford, Kharkov, Hasvik, Hassi Messaoud, Hatay, Hatang, Hatijojima, Hatton, Hat Yai, Hauha, Hayward, Hagerstown, Hayden, Haines,
Hayes, Helena, Helsinki, Hemavan, Heringsdorf, Kherson, Haugesund, Heho, Hibbing, Hiva-Oa, Hilo, Hilton Head Island, Chios, Hiroshima, Hobart, Hobbs, Hovd, Huizhou, Hokitross, Holi, , Homer, Honiara, Honningsvag, Hoskins, Hot Springs, Hotan, Ho Chi Minh City, Hoedspruit, Huai'an, Huaihua, Hualien, Huangshan, Huahin, Huahine, Hubli-Dharvad, Khujand, Hulyaka, Humer-Humer, Hume, , Hohhot, Hughes, Houston, Heihe, Hengyang, Hefei, Hue Jian, Jinan, Jingdezhen, Jining, Kinmen, Jinchang
Jinzhou, Jixi, Zunyi, Jiuzhaigou, Jiai, Jiamusi, Jiayuguan, Qingdao, Cincinnati, Qingyang
QinhuangdaoTimisoara, Timmins, Tindouf, Tioman, Tirana, Tirupati, Tiruchirappalli
Teesside