Two Handpiece Working System Professional Diode Laser Hair Removal Machine.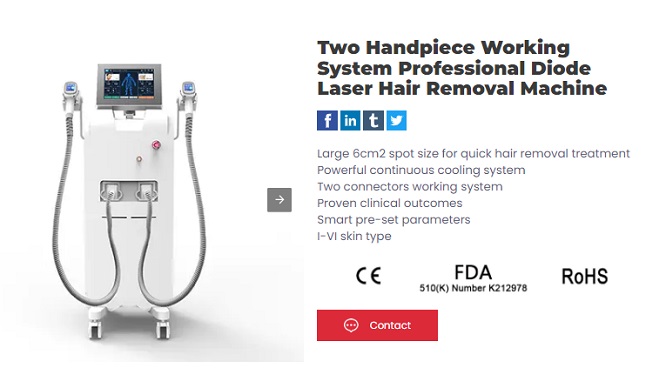 We are also interested in cooperation in the sale of cosmetology equipment.
Whatsapp , Telegram : +79180110234 Email: Адрес электронной почты защищен от спам-ботов. Для просмотра адреса в вашем браузере должен быть включен Javascript.   
Large 6cm2 spot size for quick hair removal treatment
Powerful continuous cooling system
Two connectors working system
Proven clinical outcomes
Smart pre-set parameters
I-VI skin type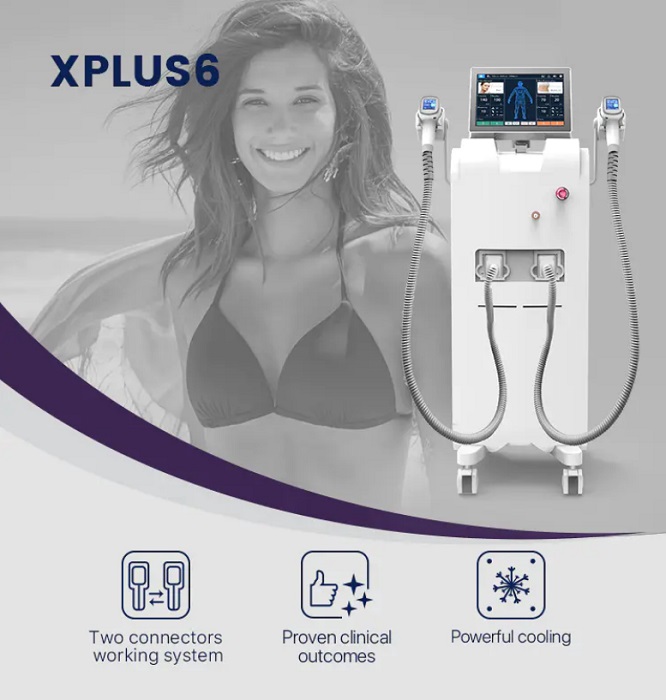 Laser hair removal:
In the field of medical aesthetics, laser epilation is one of the most popular and wide spread treatments. That's mainly because Virtually painless treatment, competitive offers from practitioners and proven results make it an easy choice. Millions of men and women around the world of all ages elect to get laser hair removal done. The variety is also notable in body areas that are being treated. These areas include large ones such as back, hair, legs, abdomen and chest. Small and delicate areas are also treatable – Bikini, face, neck, underarms and more.
Application:
Combine the three effective laser wavelengths (808nm+755nm+1064nm) which makes them suitable for all skin types and all hair color (I-VI skin tones). Diode laser is the safest and most efficient hair removal treatment at the moment.

Advantage:
1. Exclusive dual handles together working system, free to change the handle
base on treatment.
2. US Coherent company laser bar, Power stability and long lifetime, More effective treatment, painless, safer.
3. Bigger screen and more convenient handle (12 inch color touch LCD screen and 2.4 inch color touch LCD screen handle).
4. Advanced cooling system and cold sapphire tip minimizes epidermal risks while maintaining heat within the dermis where hair follicles are treated. Make sure that treatment more safe and comfortable. Patients can now enjoy a completely pain-free, cool and comfortable experience throughout the session.
5. The smart interface intelligently guides the user to complete each step of operation. Inexperienced beauticians can also easily operate.

Technical Specifications
Model XPLUS6
Function Laser hair removal+Skin rejuvenation
Laser power 500w 600w 800w 1000w 1200w
Pulse frequency 1~10HZ
Spot size 15mm*15mm, 15mm*20mm, 15mm*30mm, 15mm*40mm
Wavelength 808nm/808nm+755nm+1064nm
Electrical power 5600W
Handle cooling temperature Crystal freeze cooling(-10℃~-5℃)
Cooling system Water cooling+TEC cooling(exclusive)+Wind cooling + Sapphire crystal cooling + Semiconductor cooling
Device screen size 12 inch
Handle screen size 2.4 inch color touch LCD screen( same control with the machine)
Language choice English +Spanish +German +French (or custom)
Handle shooting warranty 40 millions
We are also interested in cooperation in the sale of cosmetology equipment.
Whatsapp , Telegram : +79180110234 Email: Адрес электронной почты защищен от спам-ботов. Для просмотра адреса в вашем браузере должен быть включен Javascript.